Pressure Sore Management Care Air Chair
Built in Pressure Relief with the Care Air Chair
Product Description
The Langdale Pressure Sore Management Chair
The Langdale Care Air Chair offers simple and stylish comfort for those with a need to prevent or who are suffering from Pressure Sores.
The Care Air Chair blends a range of pressure management and posture solutions with the comfort and style of a chair you would choose for your own home. This is why the Care Air Chair has become one of our most popular healthcare chairs.
The Care Air Chair is a highly versatile rise recliner available in a complete range of sizes and with an option of six different back styles to meet support needs. Choose from a deeply comfortable waterfall back with cushions that can be positioned for individual comfort to lateral styles that support the back in a midline position.
With care central to the design, the Care Air Chair can also be purchased with interchangeable seat cushions to address specific pressure care challenges and with removable covers for ease of cleaning and maintenance.
Key Features:
Waterfall back cushions can be individually adjusted for the user's comfort and support.
Upgrade to a range of alternative fixed back cushions, each designed to support specific care needs.
Back and seat cushions are upholstered in vapour permeable multi-way stretch fabric, to aid pressure care. The fabric is washable at 95° and available in a range of colours.
The chair arms are fully upholstered or upgraded with wooden knuckles for grip and support.
The seat cushion cover is designed with zip fasteners to allow quick access to remove the seat cushion for cleaning, or to upgrade the pressure cushion to meet the user's specific needs.
A convenient pocket is fitted onto the side of the chair for ease of storage.
The chair comes with, as standard, a single motor, two-way, Tilt in Space mechanism. This movement supports the back in a constant 90° angle as the chair reclines and the leg rest elevates. Other mechanisms are available.
The seat and leg chaise are generously padded with memory foam for comfort and support, and is removable if required.
A loop is provided at the front of the arm for the handset to be stored.
Equipped with castors, with an option of having glides.
The Chair can be made to all the following dimensions.
| | | |
| --- | --- | --- |
| Seat Height | Seat Width | Seat Depth |
| 16″ – 20″ / 40 -51 cm | 18″ – 28″ / 45 – 71 cm | 18″ – 22″ / 45 – 56 cm |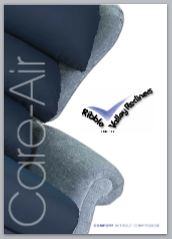 Please ring for advice on this chair.